Día de los Muertos at Concordia University
I organized Día de los muertos at Concordia University in October-November 2019.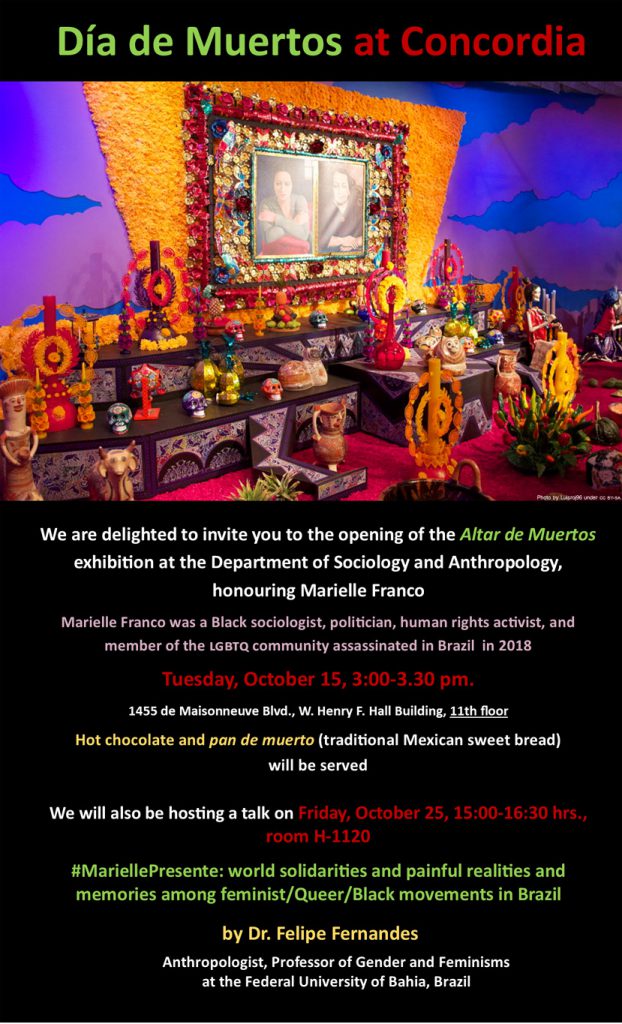 Día de los muertos is a Mexican tradition about memory and the re-signification of the present. As part of Día de los muertos, an altar is set up to commemorate those who came before us, our loved ones that have passed away, and important public figures. The tradition of the altar is rooted in pre-Columbian cosmologies that understand life and death as inextricably linked and cyclical and in continuous transformation. The altar also symbolizes gratitude, expressed through the use of various symbols called 'offerings.' The altar is thus an act of remembrance that connects the past with the present.
Along with a group of four graduate students from Anthropology and Art History, we set up an altar to honour Marielle Franco, a Brazilian, politician, mother, partner, member of the LGBT+ community, sociology graduate, and Black activist assassinated in Brazil in 2018 to keep her memory alive. Placing Franco as the centrepiece of the altar confronts individuals with the close and continuous relationship with death in Latin America, where brutal interventions and regimes have historically imposed and normalized multiple forms of violence.
This altar, then, sits uncomfortably within realities that seem contradictory, as it celebrates Franco's life while forcing us to remember the tragic reasons of her passing.
.
.
.
.
.
#MariellePresente: world solidarities and painful realities and memories among Feminist/Queer/Black movements in Brazil
A second activity I organized for Día de los muertos was a talk given by Dr. Felipe Bruno Martins Fernandes, professor at the Federal University of Bahia, Brazil, who used Marielle Franco's assassination as an analytical site to disentangle Brazil's evolving political and sociocultural context.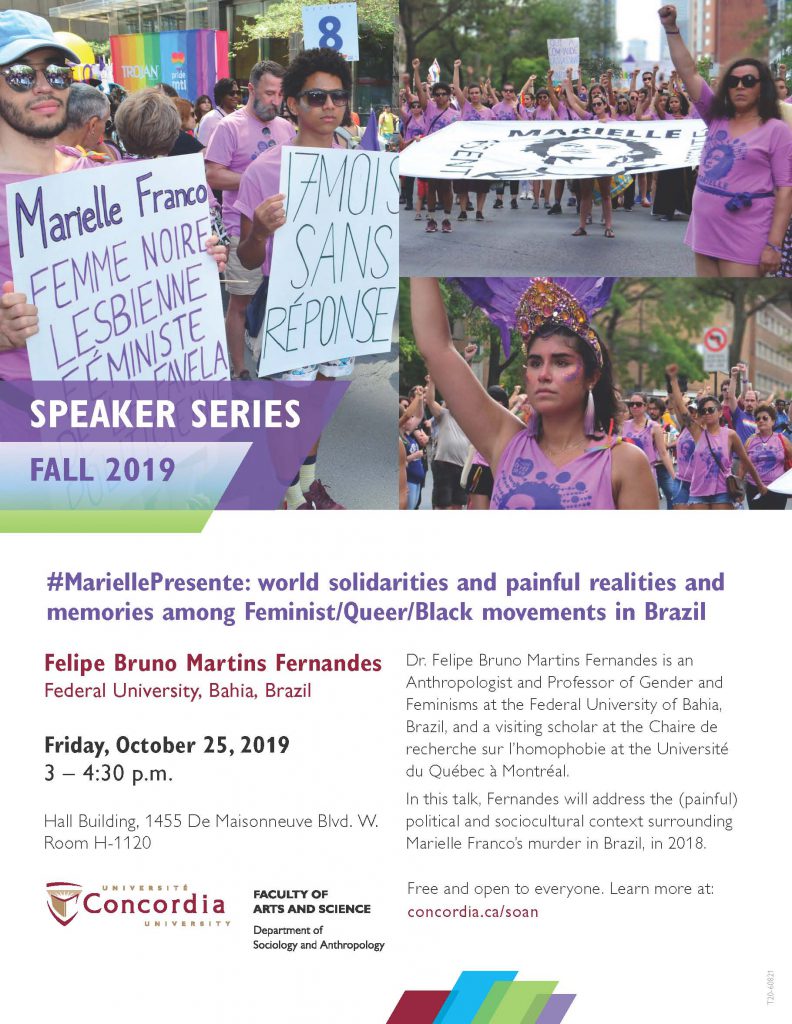 In the middle of the historical violence that characterizes Brazil, which includes high rates of hate crimes and police brutality that comprises even murders, particularly against Black people, Marielle's assassination became a sheer message for various social movements to realize what has socially been lost and the high stakes that Brazil faces regarding social equality today.
Dr. Fernandes also analyzed how Franco's political life and death have encouraged the development of transnational solidarity movements, including those in Montreal, Canada, which are contraposed to the intentions of those who ordered her assassination (i.e. "Quem mandou matar Marielle Franco?).
The talk was given in the Henry F. Hall Building, room H-1120 (1455 De Maisonneuve Blvd. W., Sir George Williams Campus), on October 25, 2019, from 3 p.m. to 4:30 p.m.
.
.
.
.
.
.
Honouring the Scholarship of Dr. Agnes Calliste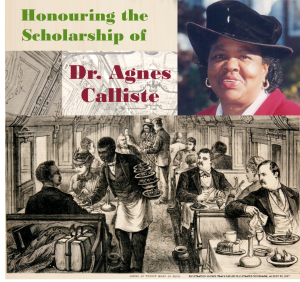 I had the honour of co-organizing the symposium entitled "Honouring Dr. Agnes Calliste: Innovative Critical Race and Intersectional Perspectives in Canadian Sociology."
The symposium honoured the scholarship of Dr. Agnes Miranda Calliste, 74, who spent her career as a Professor of Sociology at St. Francis Xavier University, and passed on Friday, August 31, 2018.
Dr. Calliste, born in Grenada, was a nationally and internationally celebrated academic. Her scholarship focused on the complex interrelation of migration, work, race, ethnicity and gender in Canada. Her ground-breaking interdisciplinary research with African-Canadian railway porters and Caribbean-Canadian nurses and domestic workers explored under-researched dimensions of our social history.
Dr. Calliste studied not only the institutionalized oppression of such communities, but also their organized resistance. Her research is now widely cited by academics as essential reading in various fields. She also edited critically acclaimed collections, such as Power, Knowledge and Anti-Racism Education and Anti-Racist Feminism, along with Dr. George Dei.
The symposium, inspired by Dr. Calliste's foundational work, showcased the relevance and richness of creative intersectional research and theorizing (including race/ethnicity, colonialism, gender, class, citizenship, and sexuality) in extending the conceptual boundaries of understanding Canada's white settler colonial and racialized formations. The papers, presented by established and emergent Carleton University scholars, examined topics such as the disposability and resilience of Caribbean migrant labour, theorizing anti-colonial, anti-racist feminism, the transnationalism of racialized communities (Indian and Argentinian), racism and power in Canadian children's literature, and positionalities of racialized feminist scholars and students.
The symposium, composed of three chaired panels with continental breakfast and lunch included, was held at Carleton University, Ottawa, on November 23, 2018, 9:00 a.m. to 3:00 p.m., at Residence Commons 270.
The event was co-sponsored by the Department of Sociology and Anthropology, the Faculty of Arts and Social Sciences, Migration and Diaspora Studies, Women's and Gender Studies, and Latin American and Caribbean Studies.
Program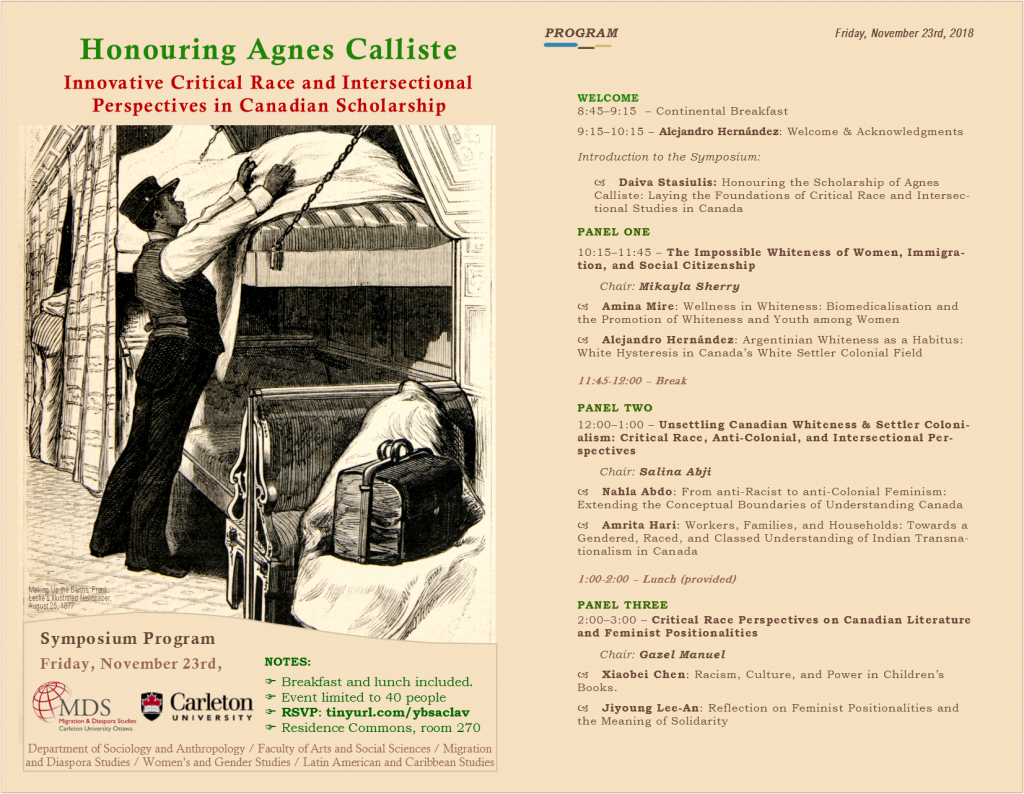 .
Migrant Dreams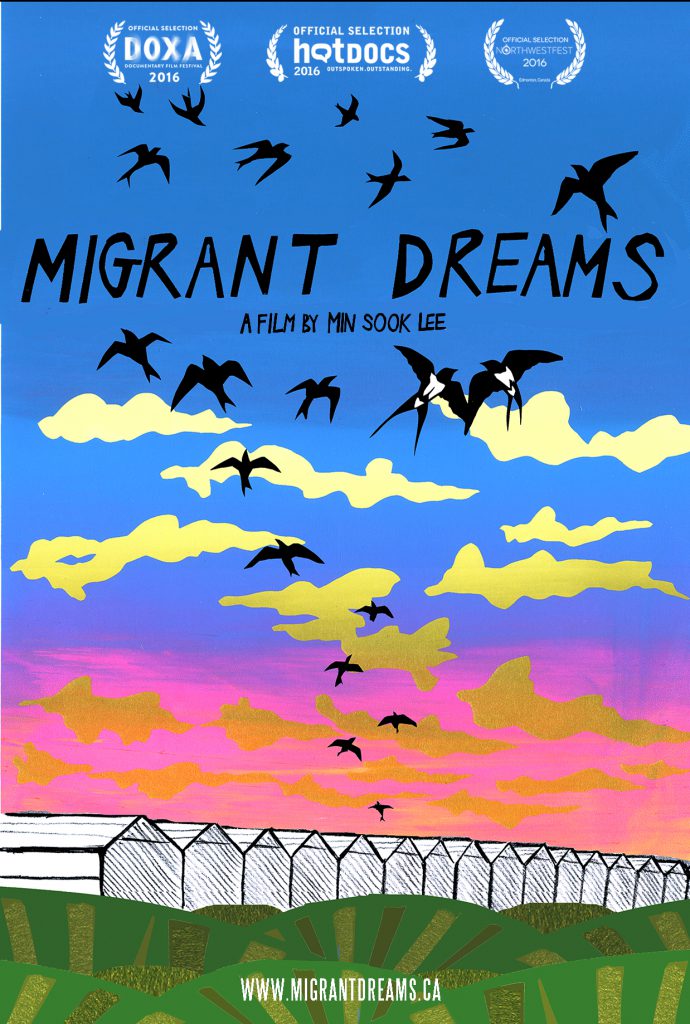 On October 6, 2016, I organized the screening of Migrant Dreams at Carleton University, a powerful feature documentary by multiple award-winning director Min Sook Lee (El Contrato, Hogtown, Tiger Spirit) and Emmy award-winning producer Lisa Valencia-Svensson (Herman's House). After the secreening, Prof. Min Sook Lee and activist Dr. Evelyn Encalada from Justicia for Migrant Workers were in attendance for a Q&A session.
Migrant Dreams tells the undertold story of migrant agricultural workers struggling against Canada's Temporary Foreign Worker Program (TFWP) that treats foreign workers as modern-day indentured labourers. Under the rules of Canada's migrant labour program, low wage migrants are tied to one employer.
Migrant Dreams exposes the underbelly of the Canadian government labour program that has built a system designed to empower brokers and growers to exploit, dehumanize and deceive migrant workers who have virtually no access to support or information in their own language. Workers willing to pay exorbitant fees to work at minimum wage jobs packing the fruits and vegetables we eat in our homes. Migrant workers who deserve basic labour and human rights. Canada it seems, has failed them.
.
Calacs Congress 2013
As part of a small but energetic team of volunteer organizers, I collaborated in organizing the annual congress of the Canadian Association for Latin American and Caribbean Studies (CALACS) at Carleton University (Ottawa) from May 3rd to 5th, 2013. The general theme of the congress was 'Canada and the Americas: Travelling Knowledges-Peoples-Solidarities.' The congress featured several renowned key-note speakers, such as Julia Sánchez, former President and CEO of the Canadian Council of International Co-operation (CCIC), Sergio Aguayo, professor at the Centre for International Studies of El Colegio de México, a well known expert on Mexican and US foreign policy, refugees and asylum processes, and Adrián Bonilla, then Secretary General of the Latin American School of Social Sciences (FLACSO), and a specialist in Latin America foreign policy.
The agenda for the CALACS 2013 Congress included 82 panels and roundtables and more than 240 presentations from people belonging to 62 diverse institutions and organizations from North and South America. Discussions revolved around topics such as Canadian foreign policy relations with the Americas, corporate social responsibility, mining, human rights, and the rise of New Left governments in the region. In addition to academic participants, the event brought together members of the diplomatic community, Members of Parliament, as well as representatives of the International Development Research Centre (IDRC) and the Canadian Council for International Cooperation (CCIC).
The Congress also constituted an excellent opportunity to celebrate the approval by Carleton University's Senate of an undergraduate minor in Latin American and Caribbean Studies that commenced in September 2013. The program's approval signaled the expansion of the work of Carleton University's Latin American and Caribbean academic community.