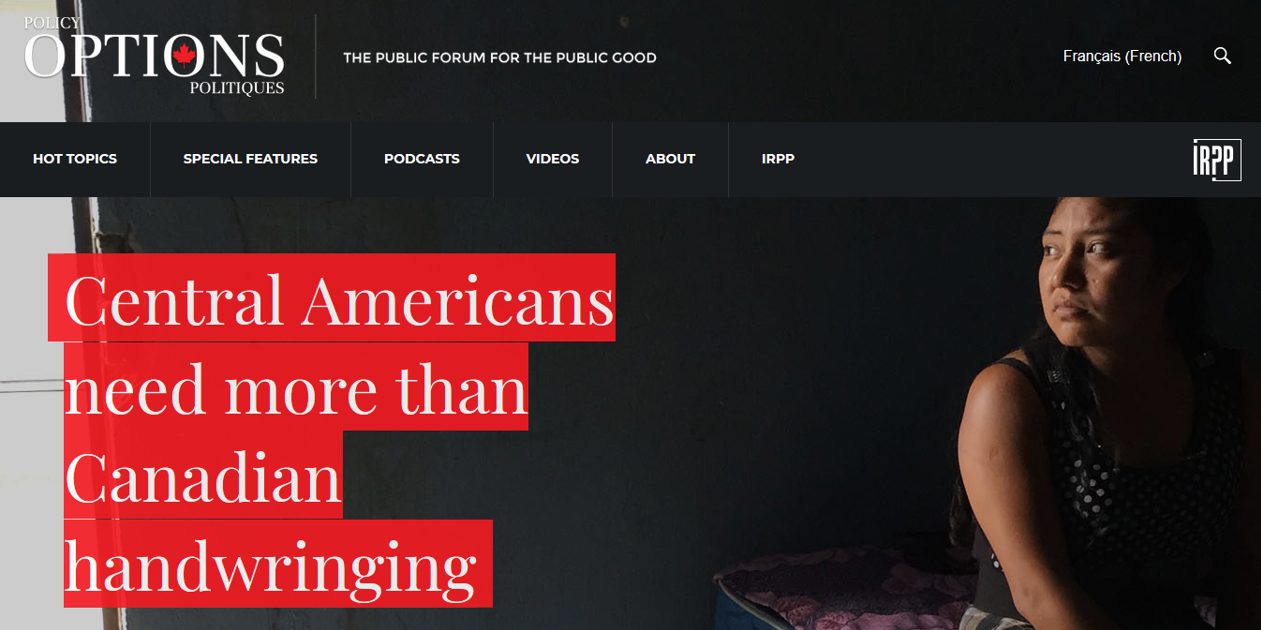 August 7th, 2018: Central Americans need more than Canadian handwringing
"The migrant crisis at the US-Mexico border is thousands of kilometers from Canada, but Ottawa could do more than just watch with concern."
Interviewed by Ryan Hicks for this comprehensive analysis of Central American immigration. Read the full article, published by the Institute for Research on Public Policy (IRPP)'s Policy Options magazine, here.

July 7th, 2018: Central American migration to the North
"Migrants continue to make the challenging journey to try to get across the US border. Many of the children and adults are from Guatemala, Honduras and El Salvador, the so-called Northern triangle. The humanitarian crisis these migrants are fleeing is complex, and some say Canada needs to adjust its foreign policy to offer more support."
Listen to the radio story (20:14′), where I was interviewed by Ryan Hicks, journalist and McGill University's McBurney Latin America Fellow, for CBC Radio 1's The World This Weekend.

July 1st, 2018 Mexican Elections
"Third time's the charm. Andrés Manuel López Obrador won Mexico's presidential election Sunday after two previous failed runs. What does his victory mean for Mexicans?"
Interviewed for CBC Radio 1's Ottawa Morning show. You can listen the interview here.


Our moral obligation to Central American migrants (Op-Ed) June 2018
"A significant number of Central American migrants are likely Canada-bound due to the ongoing immigration and security turmoil in the United States. Since people will keep migrating to survive, the associated risks and costs of migrating will also escalate. Consequently, Canada needs to enact inter-related migration and foreign policy measures that take into account the reasons why people claim asylum. These actions must go beyond Band-Aid solutions and ineffective strategies."
Read my full op-ed on The Conversation here.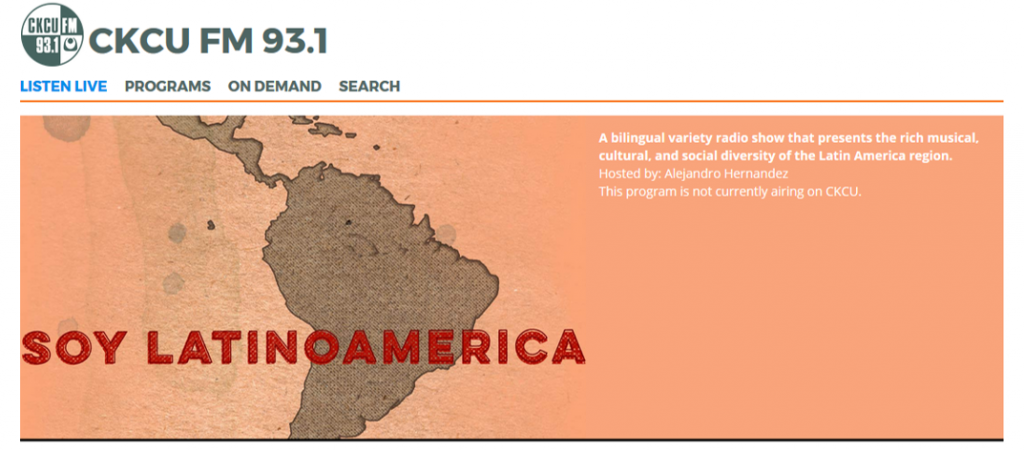 Soy Latinoamérica
I produced and hosted the radio show Soy Latinoamérica at CKCU 93.1 FM, from August 2013 to June 2017. Soy Latinoamérica was a bilingual variety radio show that presented the Latin America and the Caribbean rich musical, cultural, and social diversity to diverse audiences in the Ottawa/Gatineau region and Canada in general. The show was enriched with the participation of different personalities, ranging from the national musical scene (Latina/o-Caribbean and Latina/o-Caribbean descent artists) to professionals with different backgrounds, artists, activists, students, scholars, and representatives of diverse Latin American national communities. Soy Latinoamérica also offered a space to broader members of the Ottawa/Gatineau community to present information about relevant social issues, ranging from disability to poverty to homelessness. The show was mainly hosted in English, although Spanish was also spoken, since one of the show's objectives was to attract English-only speaking audiences. You can find a selection of interviews here, which I made over the almost 4 years that the radio show was produced, and also listen the respective podcast of each program. The full playlist of all the programs is here.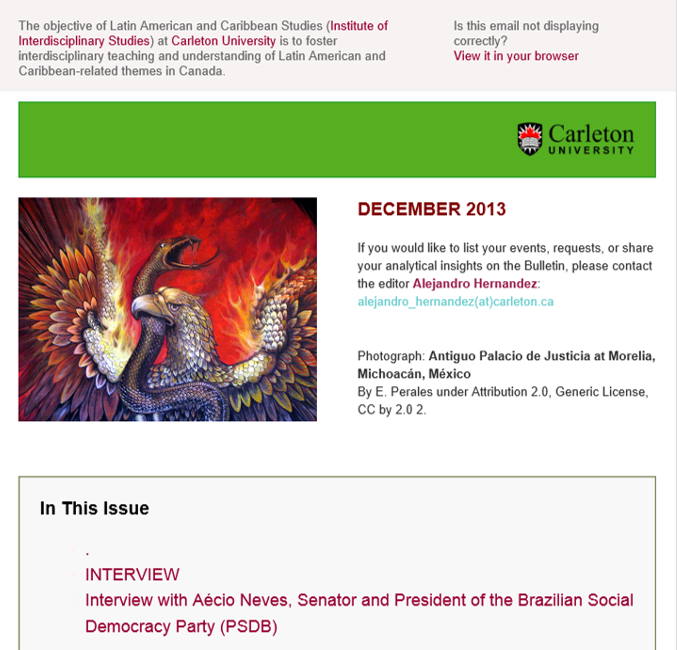 Latin America and Caribbean Studies e-Bulletin (Carleton University)
I was the editor of the e-Bulletin of Latin America and Caribbean Studies at Carleton University, from May 2013 to January 2016. I visually revamped the e-bulletin and established a monthly program of distribution, as well as increased the number of subscribers.